Mini Spotter AS-60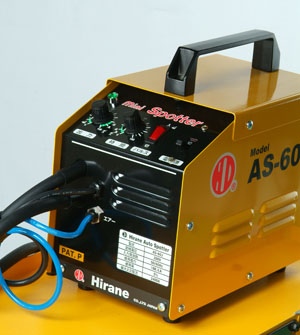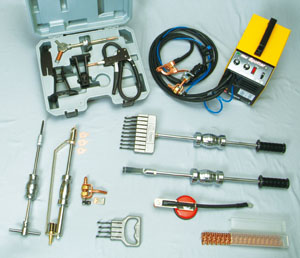 Optional Tools
INNOVATED, EPOC-MAKING & COMPACT SIZED AUTO-MOBILE-BODY REPAIRER. QUALITY JOB IS PROMISED IN LESS TIME AND LESS EFFORT.
〈Features〉
●It can do a quick and satisfactory job of automobile body repairing. So easy to pull out dents from outside. Why not let every repaire-man own unit.
●No complicated switches.Easy to operate but perfect job is ensured with the system of automatic continuous-welding.
●With the capacity of the hight power, 4m extension-cord from the unit.
SPECIFICATIONS
PRIMARY INPUT
220V/400V Single Phase
MAX. INPUT
18KVA(Within 30A Braker)
DUTY CYCLE
5%
MAX. IOUTPUT
2400A
INPUT POWER CORD
2sq. mm. 3cores, 6m
WHITE cord is for ground earth
OUTPUT POWER CORD
38sq. mm+,-1each(+4mm cord : 50sq. mm)
DIMENSIONS
H280×W180×D300mm
WEIGHT
25Kgs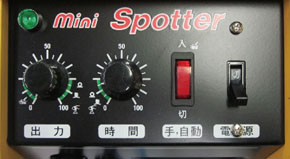 Operation panel